"Always remember, if you're alone in the kitchen and you drop the lamb, you can always pick it up, who's going to know?" Julia Child
Hi Friends, so this week on #romancingthehome we share our favorite Autumn recipe with you. From the get-go I knew exactly which one I would be sharing. 
My absolute fav of all time Boeuf Bourguignon! 
But before I get into all the nitty gritty's of the recipe. I felt the urge to simply immerse myself into what would inspire me for this blog.
A few years ago I made Boeuf Bourguignon after watching an episode of Rachel Khoo on the food network, she is this lovely simple British chef who has a small apartment in Paris and cooks for tourists in her own home. I'm a sucker for anything French and if I were young again I would have spent a year or two in Paris, unfortunately, that ship has sailed but I can still dream.
Anyway getting back to my point. I made her dish a famous French recipe and OMG I fell in love. Since I have made this recipe many time and each time I get better at it. 
A few years on, I stumbled across this movie on Netflix  called "Julie & Julia" watch the trailer here Trailer Julie & Julia
I simply had to watch it again! so well my stew was in the oven, I made a cup of tea and watched!
In this film…a must watch, not to mention it has Meryl Streep in it! The basics of the story are as such: the famous Julia Child and a new found Blogger (Julie) share a para-dime love affair with food (based on Two true life stories). No spoiler alerts here…If you get the time it really is a lovely light-hearted show.
Julia Child had a huge passion for French cooking and had her own TV show, Vintage anything gets my attention and I loved watching her demo on how she makes Boeuf Bourguignon.  I will admit my recipe is a short cut version but,  I'm inclined brag that It is the best beef stew I have ever had! Sorry, Julia…
Watch Julia Childs demo 
Ok so I am seriously cheating here…I copied and pasted from Rachel Khoo's website. Shame, Shame on me! where is a shameful emoji when you need one!
Ingredients
So…I did not serve mine with dumplings however these do sound amazing!!! I simply went to Woolies and bought the best baguettes I could find and they were just perfect. Other serving suggestions can be rice, mashed potatoes, wedges. However, I still love it with fresh french bread!
For the dumplings
Method
Preheat the oven to 150C/300F/Gas 2.

Dust each piece of meat with flour. Heat the oil in a large casserole over high heat and fry the meat in batches until browned. Remove each batch, keeping the oil, then fry the lardons, onions, and garlic in the same pan until golden brown. Add in the herbs and spices and return the meat to the pan. Add 300ml/10fl oz water, the wine, tomato paste, sugar, and salt. Scrape up the caramelized bits as they will add flavor.

Cover, place in the oven and cook for three hours or until the meat is tender and almost falling apart.

Cut the baguette into small cubes and place in a bowl. Add the parsley. Bring the milk to a boil and pour over. Stir so that the milk is absorbed evenly, then cover and leave for 15 minutes.

Season with nutmeg, salt, and pepper, stir in the egg and mix in one tablespoon flour. If the mix is too wet (it should be moist and only slightly sticky), add a second spoon of flour. Wet your hands a little to help stop the dough sticking to them, then make 12-14 dumplings (smaller than a golf ball).

About 20 minutes before the stew is ready, add the mushrooms into the stew and season with salt to taste.

Meanwhile, heat a knob of butter in a large frying pan and fry the dumplings on medium heat for five minutes or until golden-brown and crisp, then drain.

Garnish the stew with parsley and serve with the dumplings.
 While the family was chomping at the bit to get to eat this meal, I could hardly blame them, the entire house smelt like a French Bistro, but before we could eat,  I had to get some pretty shots just for you.
Firstly I served this dish with some lovely Red wine and on my new hand made plates. The bread was served on my wine barrel boards and I cut the bead up as it made it easier on my family. Typically in France, you would break the bread.
On my wooden board, I added a pinch of  Maldon Salt which you can buy from Woolies or online at Yuppie chef, and a nice pinch of freshly ground black pepper. 
This kept the table rustic and oh so French!
Now it was time to eat!
And like Julie would say …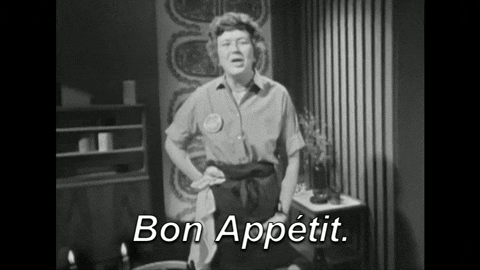 Be sure to check out my fellow #romancingthehome friends to see their fav Autumn Recipes: